TABLE OF CONTENT
About CostarChem Nigeria.
Precision Grouting Technology.
Market and Application
How to select a grout
Anchoring and Fixing
Uses of Grout
Key Features and Benefits of Costarchem Grouting Products.
Costarchem Range of Grouting Product.
About CostarChem Nigeria
COSTAR© is a world leader in the delivery of tailored Constructive Solutions for virtually any type of construction project, combining high-quality products, expert technical support, customer service, and innovation.
Costar Building Product system was founded Decades ago, and we have been producing innovative construction chemicals that help gives strength and increase the life span of a modern building.
At the moment, Costar Building Product system supply high-quality products to major construction companies and real estate projects. With a global presence in United State, Turkey, United Arab Emirates (Dubai), and West African Countries such as
Nigeria, Cameroon, Ivory Coast, Ghana, and we are making inroads into other countries.
From our concrete admixtures, curing compounds, evaporated retardants, flooring products, expansion joints, concrete sealers, repair mortars, structural grout, and our extensive range of waterproofing products, Costar Building Products has all your construction needs covered.
From Highway construction to factory flooring to waterproofing of commercial projects, Costar Building Products has been satisfying the needs of stakeholders in the building construction industry for decades. Our products are available worldwide through our network of authorized distributors and partners.
Precision Grouting Technology
Equipment and machinery which have precise tolerances for alignment or require uniform support cannot be placed directly on finished concrete surfaces. Both the concrete surface and machine base have irregularities which result in alignment difficulties and uneven bearing load concentrations and distributions. For This reason, spaces between the machine bases and foundation needs to be filled with a load transfer material otherwise known as grouting material. A hydraulic cement and epoxy grouts load transfer material is most frequently used and an example of such material is "Costar Grout C40".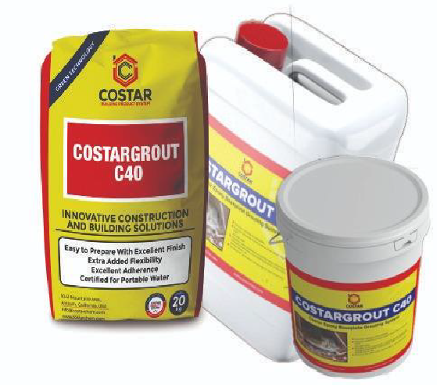 After placement and hardening in the space between a machine or equipment base and the foundation, the grout is expected to perform one of the following functions:
1. To permanently maintain the original level of the machinery or equipment alignment and transmit all loads to the foundation when all other temporary supporting devices are removed.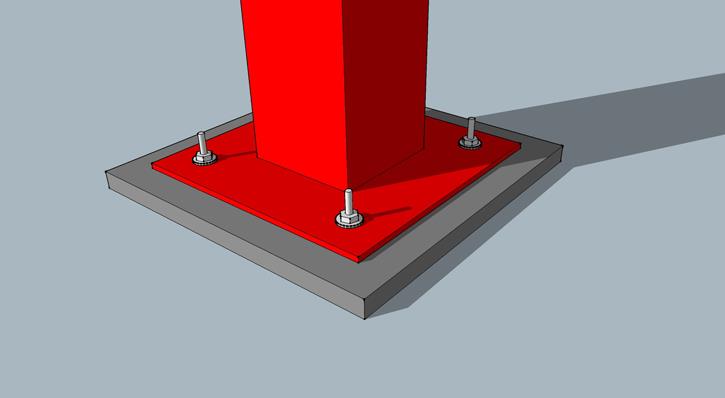 2. Give lateral support and to an extent corrosion protection for shims which are designed to transfer all loads to the foundation.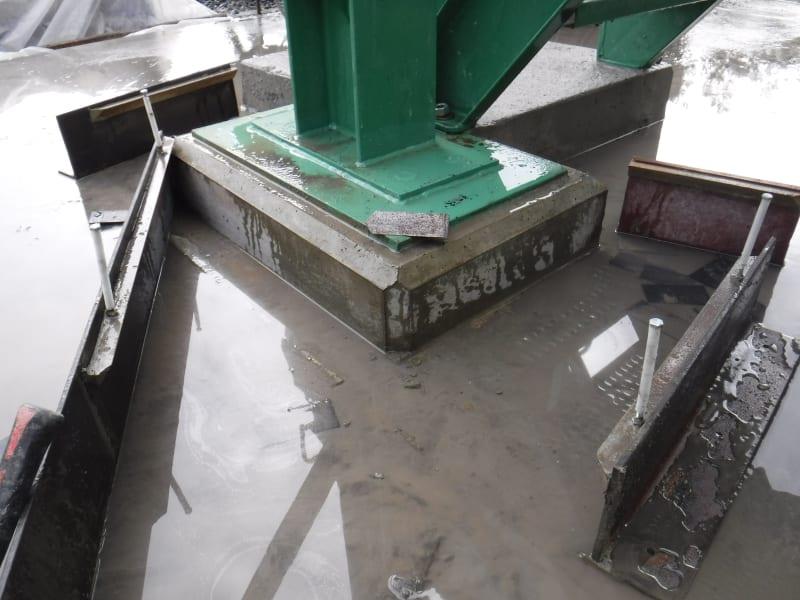 3. Some grouts are also required to provide sound deadening and a mechanism for reducing vibration. This can often be achieved by a composite system incorporating elastomeric bearings and a structural adhesive.
Markets & Applications
There is extensive use of Costarchem Precision Grouting solution products within the civil engineering market. These high-performance products can be employed or used in any situation where accuracy in the result or where transfer of load concentrations is required. These loads could be either dynamic or static loads, however, the case a structural grout has been proven effective in solving these challenges encountered in the civil engineering industry/market and examples of structures requiring grouting solutions include:
Bridges
Railways
Theme Park Rides
Building Structures
Crane Rails
Machine Bases
Wind Farms
Highways
The most important requirement for a grout which is intended to transfer loads to the foundation is for it to have "volume change characteristics" which result in the complete and permanent filling of the space. Plain grout, consisting of cement, aggregate, and water, does not have those characteristics. Several other properties of the grout such as consistency, strength, chemical resistance, and compatibility with the operating environment are also important. However, these properties are obtained more easily than the necessary volume change characteristics.
For most applications, the space between the foundation and the machinery or equipment base can best be filled by pouring grout into the void. A plain sand/cement grout with this consistency could be placed in the space and may develop adequate strength. However, after placement, the sand/cement grout will lose contact with the plate because of settlement, shrinkage and bleeding.
The result will be an incompletely filled space leaving the equipment resting primarily or completely on the shims or other alignment device. To maintain permanent contact with the plate, grout must be formulated using special additives with cementitious or epoxy systems.
These grouts have a highly proven EBA (Effective Bearing Area), which is the actual area of contact under a bearing plate, free of air bubbles and voids.
Application of Precision Grouts
There are four main methods used to grout baseplates:
1.) Pouring from one open side of a shuttered baseplate.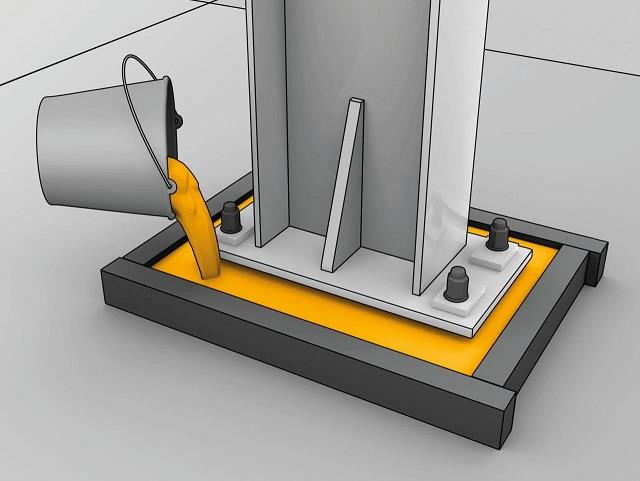 2.) Pouring through a hopper or pipe down a drilled hole in the top of the base plate.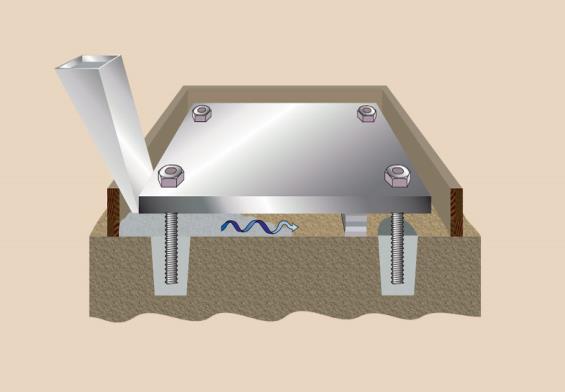 3.) Where the gap is very narrow under small baseplates (up to 300 x 300mm), it is possible to inject grout through a standard mastic type of gun.
4.) For larger baseplates it is better to use a pump to deliver adequate volumes of grout to the point of grouting. (For epoxy grouts, a peristaltic pump is used. For a cement grout a more conventional diaphragm pump is commonly used).
Where large areas need to be grouted, or where complex bases are involved, it is wise to design a method of introducing the grout to eliminate air entrapment under the baseplate.
How to Select a Grout
The choice of suitable material depends on the intended usage, accessibility, thickness of bed and the area to grout.
For dynamic loading: (e.g. motor, turbine or under heavy wheeled traffic – crane rails) – epoxy grout must be used.
For static applications: (e.g. such as under stanchion bases, columns etc.) – both epoxy and cement grouts can be used, but cementitious grouts are more popular because they are perceived as being more cost-effective.
Cementitious Grouts – provide resistance to salt and sulphate exposure and can withstand high operating temperatures.
Epoxy Grouts – provide better resistance to impact, vibration, and chemicals and higher compressive, flexural, tensile and bond strengths.
A precision grout is a liquid mortar. The main function of a precision grout is the effective transfer of load from the structure or machine to the foundation. To enable this, the grout must provide adequate permanent bearing, be non-shrink and have sufficient strength to resist any loading imposed upon it. To get the grout into place, often into small gaps or confined areas, the grout must be sufficiently fluid so it can flow or be pumped, but it must be stable and not be prone to segregation.
Anchoring and Fixing
Anchor Grout
A bonded or grouted anchor is fixed by the mechanical key between the bolt or bar, the anchor grout, and the drilled hole. The primary mechanical key is created by drilling a rough-sided hole using a rotary percussion drill, and the secondary anchorage is achieved by the bond between grout and anchor, meaning loads or tensile forces are transmitted through the grout to the substrate. When tensile force or pull-out load is applied to the bolt or bar, it creates a shear force on the substrate. As most substrates are relatively weak in shear and tension, it is normally the strength of the substrate and the depth of the anchor that determines the ultimate strength of the bonded or grouted anchorage. The choice of the right anchor grout depends upon the application and pull-out loads to be applied.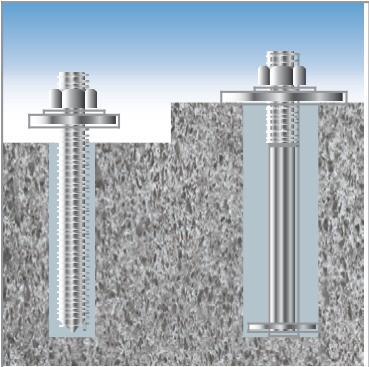 Uses of grout
Grouting under stanchions and baseplate.
General void filling, under paving, in rubble walls etc.
Fixing balustrades, starter bars, barriers.
Underpinning.
Key Features and Benefits of Costarchem Grouting Product
General-purpose grout suitable for use over a temperature range of between 5 and 25 degrees.
Can be pumped, poured, trowelled or dry-packed for maximum versatility.
Good flow properties, suitable for large baseplates.
Can be applied in thicknesses ranging from 10mm to 100mm.
Factory blended for maximum quality control avoiding onsite errors.
Costarchem Range of Grouting Product
Cementitious Grouts – provide resistance to salt and sulphate exposure and can withstand high operating temperatures.
Epoxy Grouts – provide better resistance to impact, vibration, and chemicals and higher compressive, flexural, tensile and bond strengths. (Costar Grout C40)